Gujarat is India's top industrial state in terms of manufacturing capacity, investment opportunities, operational special economic zones and other investment-friendly locations for industrial set-up, logistics and connectivity infrastructure, opportunities for emerging sectors like renewables and financial services, and a stably policy environment. We discuss the state economic profile, including its leading industries, exports, and special economic zones and industrial investment corridors.
---
Gujarat's status as India's most industrialized state is reflected in its contribution to the national economy.  By GDP, the western coastal state is ranked second among India's states, at US$240 billion (2021-22 estimate). The Gujarat state GDP (GSDP) is projected to grow to US$280 billion in 2022-23. Gujarat contributes around 20 percent to India's industrial production and merchandise exports and the state's ports handle about 40 percent of India's cargo. In this, Gujarat benefits from having India's longest coastline at 1600km or 990 miles.
Between April 2015 and March 2020, the state received foreign direct investment (FDI) worth US$15.6 billion. In the FY 2019-20, the percentage of FDI inflow went up by 240 percent – propelling the state to grow sixty times the overall economic growth of India. However, the state has recorded a dip in its FDI inflow since, attracting INR 201.69 billion in 2021-22 and coming in sixth behind Karnataka, Maharashtra, Delhi, Tamil Nadu, and Haryana. This is likely to change given fresh policy impetus, infrastructure projects, and investments announced in 2022. Besides, the state boasts of a well-developed domestic industrial ecosystem, which will appeal to foreign firms seeking to diversify their supply chains and establish business partnerships in the country.
Gujarat has state-of-the-art infrastructure and a consistently policy-driven, business friendly ecosystem. The state's flagship manufacturing industries include agro and food processing, automobiles, chemicals, pharmaceuticals, and petrochemicals. In the following sections, we discuss key aspects that make the state attractive to offshore investors across a range of industries, including manufacturing capacity, location advantages, export capabilities, and other incentives.
GIFT City
For offshore financial market investors, India's first International Financial Services Center (IFSC) has been set up at Gujarat International Financial Tec-City (GIFT City) in Ahmedabad. Recent changes in tax regulations include the waiver of several tax liabilities like goods and services tax (GST), dividend distribution tax, and capital gains tax for entities operating in the IFSC GIFT City. According to tax experts, Category III alternative investment funds (AIF) setting up in IFSC GIFT City will benefit from zero tax on bond trading and zero tax on derivative trading, which is in line with offshore treaties. GIFT City is modelled along the hybrid structure of Singapore's financial center.
Key industries
Food processing
Gujarat has over 30,000 food processing units, 45 dairy plants, and 560 cold storage facilities and fish processing units. During FY 2020, the state produced 20.343 million litres of milk daily. Gujarat has eight sub agro-climatic zones and 20 agri-export zones.
IT/BPM
Gujarat accounts for 16 percent of investments made in the IT/ITeS sector in India. There are over 5000 small, medium, and large enterprises catering to the ICT sector. IT clusters in Gujarat are spread across the cities of Ahmedabad, Gandhinagar, Vadodara, and Surat.
To learn more about the investment scope in Gujarat, read our articles "Gujarat Semiconductor Policy 2022-27: What Are the Incentives?" and "Major Incentives Under the Gujarat IT/ITeS Policy 2022-27".
In the semiconductor space, Vedanta-Foxconn has finalized Dholera Special Administrative Region as their location for their facility in the state. The consortium needed a 800-1000 acre land parcel that is also well connected with Ahmedabad. The Gujarat government had shown the JV entity sites at Sanand and Mandal-Becharaji in Ahmedabad district, two locations near Vadodara in central Gujarat, Dholera, Himmatnagar, Jamnagar, and Kutch.
The Gujarat government has set an eight-fold increase in its export target of INR 250 billion (US$3.28 billion), from the existing INR 31 billion (US$401 million), over the next five years (2022-27) and hopes to produce over 100,000 direct jobs as an outcome of its latest IT/ITeS Policy.
Automotive industry
Gujarat contributes nine percent to India's total output of transport equipment manufacturing. The state has auto-clusters in Ahmedabad-Sanand, Mandal Becharaji, Hansalpur-Vithalpur, Vadodara-Halol, and Rajkot. Gujarat has a strong heavy and light engineering sector that supports the local auto production base. Major automakers with plants in Gujarat are Maruti Suzuki, Tata Motors, MG Motors, Honda Motorcycles and Scooters India (HMSI), and Hero MotoCorp.
Tata Motors acquired the Ford Gujarat plant (at Sanand) in August as the US carmaker exited the Indian market. Tata Motors plans to invest US$2 billion in the Indian electric vehicle (EV) business and roll out a portfolio of 10 models by 2025.
Gujarat offers plug-and-play infrastructure for automobile and ancillary companies. The state has clusters for automobile production, castings and machine tools, brass parts, engines, electric motors, bearings, and auto-ancillaries.
Cluster-wise major auto component suppliers
Sanand

Auto component suppliers

Products

FCC

Clutch, pulley assembly

Endurance

HPDC parts

Radiant

Small plastic parts

Hilex

Cable brake, throttle

Lumax Ind.

Cushion assembly

Motherson Sumi Systems

Painted bumpers

JBM

Stampings

Magna (Cosma)

Stampings

Yanfeng

Instrument panels

Valeo

Engineering cooling system

Mahabal

Machined/ferrous castings

Visteon (Hanon)

HVAC

Yazaki

Wiring harness

Kautex

Plastic fuel tank

Magna

Seat assembly

Grupo Antolin

Hard trims

Saargumi

Dyn weather strip

Caparo Eng. India Pvt. Ltd.

Steel metal parts

Lumax Industries Ltd.

Lights and lamps

Tata Autocomp Stem Ltd.

Bumpers and dashboard

Rico Engineers Pvt. Ltd.

Engine casting

Rucha Engineers Pvt. Ltd.

Engine components

Tata Yazaki Autocomp Ltd.

Wiring harness
Halol

Auto component suppliers

 Products

BADVE

Chassis, suspensions, BIW

ROCKMAN

Aluminium die casting, alloy wheels

AG Industries Ltd

Clutchplate, gearbox, gasket

SATYAM Auto Components

Fuel tank, chassis, BIW

ENDURANCE

Suspension, transmission

VARROC

Lighting, electrical-electronics & precision metal component

NAPINO

Electronic & transmission system

AUTOFIT

Seat, wheel assembly

Yangfeng India Automotive Interior Systems Pvt.

Automotive interior

Munjal Auto Industries Ltd

Exhaust, wheel, accessories, complete assembly

Liuzhou Wuling Automobile Industry Co., Ltd

Vehicles & auto parts

Lumax Industries Limited

Lighting systems

ASAL

BIW, body and structural panel

Caparo Engineering India Ltd

Metal stamping, fastening, forging

Hannon Automotive Systems India Pvt Ltd

HVAC, compressor, controller

Yangfeng Adient Seating Co.,Ltd.

Seat, overhead systems
Other

Location

Auto component suppliers

Products

Chattral

Advik

Bracket L Brake Assy

Modern

Crank shaft

GIDC-Mandal

TSMD

Seat

Roki-Minda

Air cleaner

Karsanpura

Fiem Ind.

Light, plastic parts

JRG Automotive

Plastic parts

Varroc Polymers

Plastic parts

Mahesana

JNS

Speedometer

Jay-ushin

Key set, switches

Viramgam

ASK

Hub, Grip RR, C'case covers

Bony Polymers

Rubber parts

Vithalpur

Badve

Weld Parts: F/Body, Muffler

NMPL

Weld Parts: F/Body, Muffler

Newswan

Weld Parts: F/Body, Muffler

Indo Auto

Weld Parts: F/Body, Muffler

Bharuch

Continental Carbon

Carbon Black, Power and steam

Nocil

Rubber chemicals

Merchem

Rubber chemicals

Lanxess

Rubber chemicals

PCBL

Carbon Black

Gujarat Reclaim

Reclaim rubber

Acmechem

Rubber chemicals
Chemicals, pharmaceuticals, and petrochemicals industries
Gujarat is the leading pharmaceutical manufacturing hub in India, and accounts for 33 percent of sector turnover and 28 percent of India's pharma exports. The state has more than 3500 licensed private players, and the state is also a major biotech destination. Gujarat has 130 USFDA-certified drug manufacturing plants.
The cities of Ahmedabad and Vadodara are the top destinations for pharma facilities in the state. The minimal capital requirement for building a pharmaceutical plant in Gujarat is INR 100 million (approx.US$1.22 million). Gujarat also has a mature industrial ecosystem in place – with ancillary and associated industries like packaging, chemicals, engineering, and pharma plant machinery manufacturing. This has resulted in the growth of a skilled talent base to serve the state's pharmaceutical sector.
Gujarat is responsible for 62 percent of the total petrochemical production and 35 percent of the total chemical production in India. In marine production, Gujarat accounts for 70 percent salt production in India, 20 percent caustic soda, and 90 percent soda ash.
To further enhance Gujarat's industrial capacity in these areas, the state has set up a Petroleum, Chemicals and Petrochemicals Investment Region (PCPIR) located at Dahej, Bharuch near the Gulf of Khambhat. The Gujarat PCPIR occupies 452.98 sq.km land area and has key logistics advantages in terms of rail, road, sea, and air connectivity.
Prominent investment locations
To attract large foreign investments, Gujarat's industrial policy has organized its development zones that will enhance industrial activity by concentrating investment areas. These include the setting up of special investment regions (SIRs), improving existing investment regions (IRs), setting up new industrial parks, and establishing SEZs.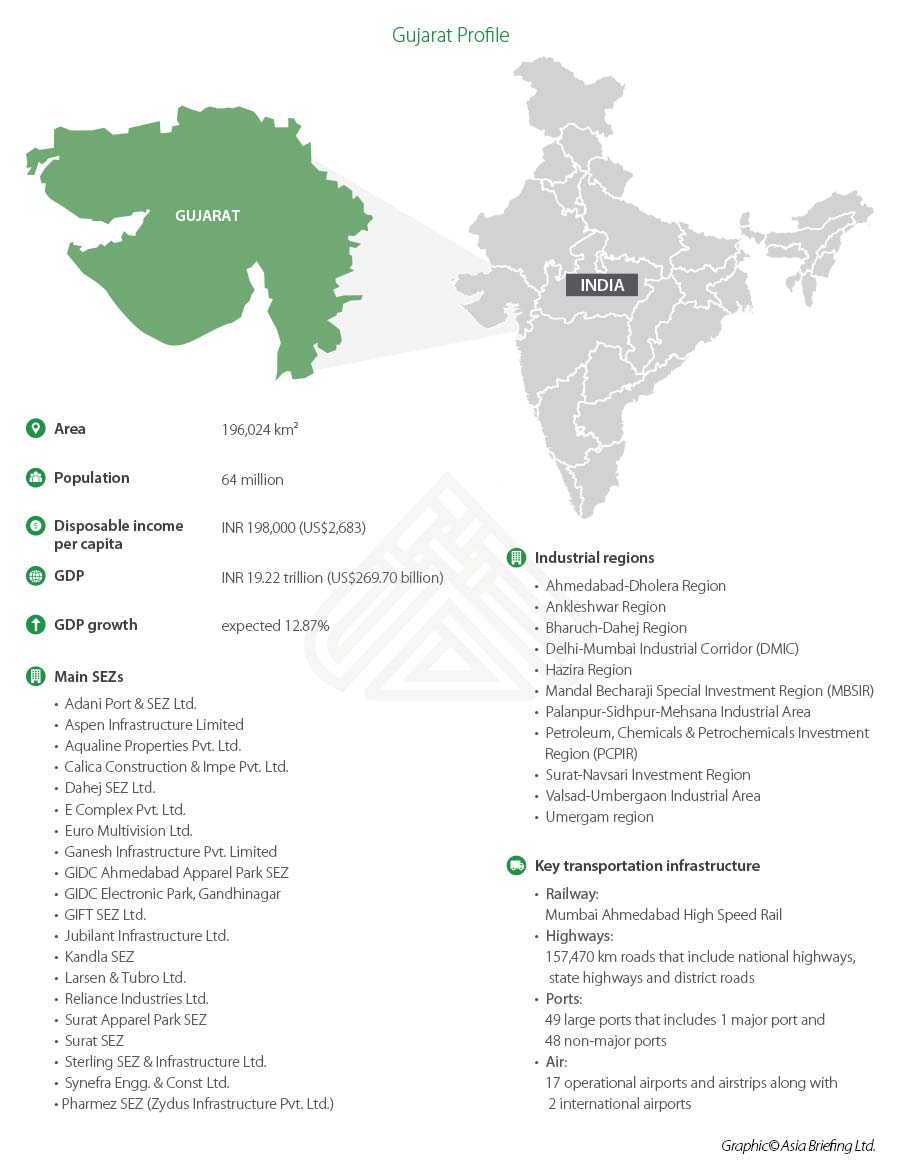 The Government of Gujarat enacted 'The Gujarat Special Investment Region Act-2009' to spur the creation of large industrial investment areas supported by world class infrastructure. (The concept of SIR has been evolved in concurrence with Delhi-Mumbai Industrial Corridor, a high impact industrial area within 150 km distance on both sides of the Dedicated Freight Corridor from Dadri-NCR to JN Port-Mumbai.) Out of 24 industrial nodes identified on Delhi-Mumbai Industrial Corridor, six nodes are located in Gujarat.
Six cities have been designated as investment regions to attract foreign investors (shown below).

The advantages of investing in these regions include:
Taking advantage of a business friendly environment;
Access to skilled human resources;
Abundance of natural resources;
Large consumer market;
Easy connectivity by road, air, rail, and sea;
Presence of small and medium-sized enterprises (SMEs);
Existing social infrastructure; and
Urban development.
The following table discusses the functions of each type of industrial park in Gujarat.

The following infrastructure facilities are developed in industrial parks:
Upgrading of existing roads;
Construction of a water distribution network;
Construction of a gas/energy/electricity network;
Construction of warehouse facilities;
Construction of product development center;
Construction of a product testing center; and
Construction of a common facilities center.
Special economic zones in Gujarat
Gujarat boasts of several special economic zones in major cities (SEZ). SEZs are specific enclaves with relaxed duties and fiscal incentives to promote export of goods and services, expand economic activity, and facilitate increased investments. Such areas benefit from single window clearance and compliances based on self-certification. The distribution of SEZs in Gujarat are shown in the table given below.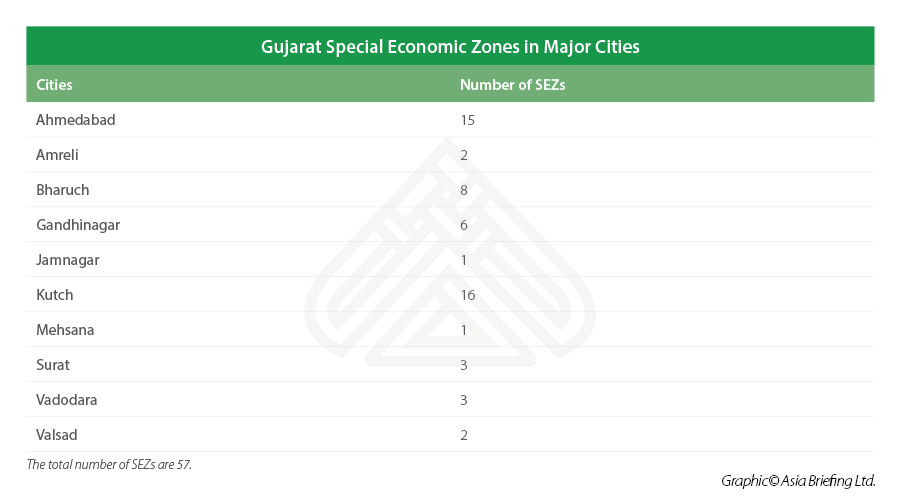 Incentives for foreign investors
Foreign businesses will be able to access clear incentives if they choose to invest in Gujarat. The following sections highlight key benefits of setting up in the state.
Industrial ecosystem
Gujrat contributes to 16 percent of industrial production in India. It received 22 percent of incoming foreign investment worth US$18.59 billion between October 2019 and September 2020, facilitated by its regulatory mechanisms to ease of doing business, besides other incentives. These mechanisms include the provision of assigning relationship managers to key setups, an online approval system, and centralized inspection.
The state assigns eligible businesses with a relationship manager who acts as a single point of contact for all government related queries. A framework for online permissions is being prepared, wherein investors need only submit one application form for 26 state-related approvals and compliances. The centralized inspection system aims to bring more transparency to the 'ease of doing business.' A special committee formed at the state level will aid the process of procuring land and converting it for industry use.
Exports and industry-specific special economic zones
With a contribution of over 22 percent to India's net export share, Gujarat has begun setting up industry-specific SEZs that will encourage export-oriented manufacturing in key industries, including pharmaceuticals, chemicals, jewelry, gems, and ceramics.  

Preferential policy measures
With its 2020-25 Industrial Policy, the government of Gujarat has initiated progressive policies and incremental incentives that will aid the development of 15 thrust sectors, categorized into core sectors and sunrise sectors. 
Core sectors: Electrical machinery and equipment, industrial machinery and equipment, auto and auto components, ceramics, technical textiles, agro and food processing, pharmaceuticals and medical devices, gems and jewelry and chemicals.
Sunrise sectors: electrical vehicles and their components, green energy projects, waste management projects, industry 4.0 manufacturing, and 100 percent-export-oriented units irrespective of sector.
Capital subsidy incentives (between 4% to 12% of fixed capital investment, depending on area or taluka category 1/2/3 and type of sector - general or thrust sector) will be provided to large industries setting up manufacturing operations in Gujarat while MSMEs can access incentives in the form of capital and interest subsidy on term loans based on the taluka category 1/2/3 (area category).
Incentives will also be available for start-ups, relocation from other countries, research and innovation, development of industrial infrastructure by private developers, etc.
Public-private partnership policy
The public-private-partnership (PPP) policy is a partnership between the enterprises in the state-supported and private sectors to efficiently utilize incoming foreign investment. A study by the Associated Chambers of Commerce (ASSOCHAM) stated that Gujarat accounts for 15.5 percent of the country's total infrastructure projects in operation. (There are about 1,200 projects being carried out in the PPP mode in India in different segments of the infrastructure sector.)
The Blueprint for Infrastructure in Gujarat 2020 (BIG 2020) details plans for developing infrastructure in the state through PPP. The first objective states the need for inclusive economic growth. To accomplish this, 17 growth engines have been defined across the agricultural, services, and industry sectors that would enhance the economic and social welfare in the spheres of education, health, governance, and environment. The next step is to build the support infrastructure needed. Certain infrastructure sectors will be prioritized for development and investment.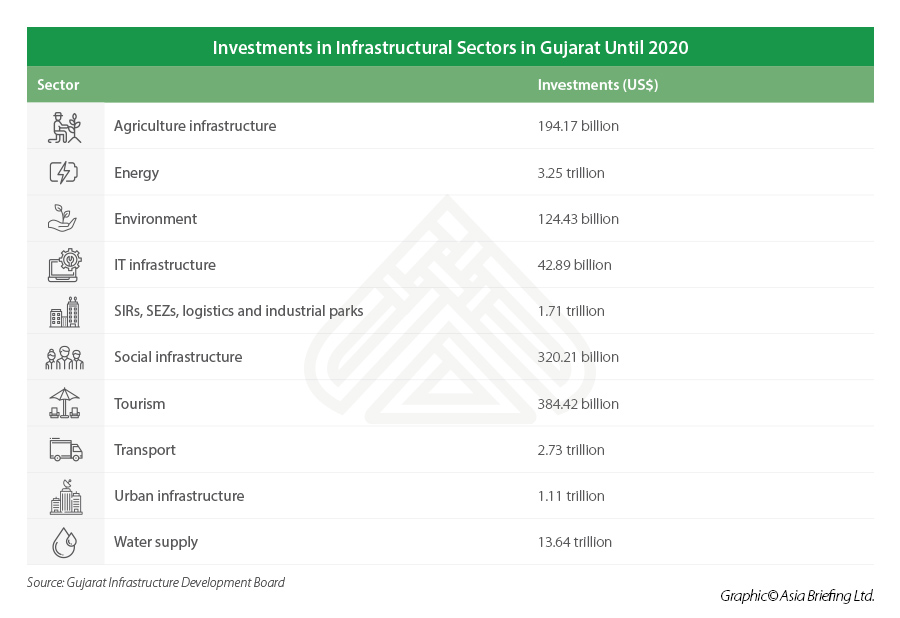 Promotion of micro, small, and medium enterprises
Micro, small, and medium enterprises (MSMEs) are invaluable in the industrial ecosystem, enabling the growth of upstream and downstream investments. The government has already initiated polices to facilitate the growth and diversification of the state's MSME ecosystem. These include the implementation of the Gujarat Micro, Small and Medium Enterprises Act of 2019 and the establishment of MSMEs in 11 districts.
For now, the goal of Gujarat's MSME ecosystem is to be recognized at a global level by means of higher exports, superior capital management, global supply chain integration, and being able to access global markets. The end result should be foreigners choosing to invest directly into the state's MSMEs. Market development assistance is one of the policies geared towards achieving this goal. Gujarat's government will fully support the participation of domestic MSMEs and startups in exhibiting themselves internationally so that they may access global resources and tap into foreign markets.
The following table represents the types of exhibitions that can take place and the reasons MSMEs should be interested in participating in them.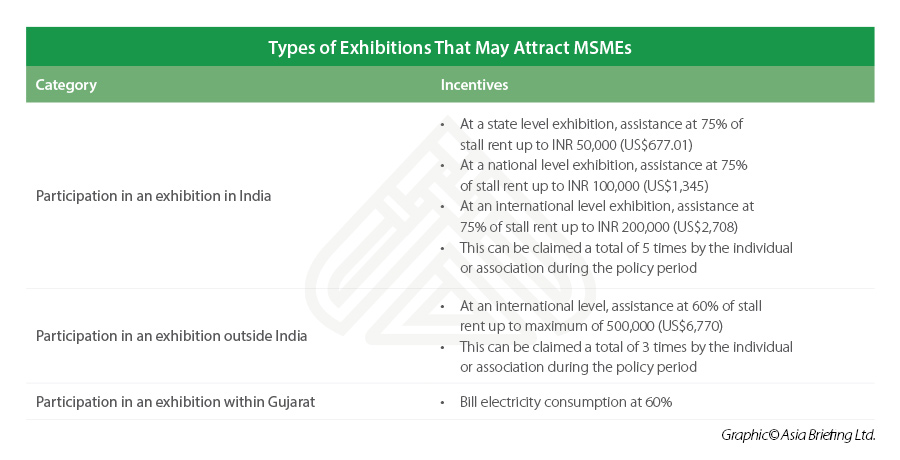 Promotion of exports
Exports have contributed significantly to Gujarat's economic expansion. As per the Gujarat Industrial Policy, 2020, the state government will continue to promote exports by facilitating the exporters and export-oriented units.
Promotion councils: The government will partner with national and state level export councils to continue seamless facilitation of exports.
Infrastructure: Exporters will be provided with exhibition cum convention centers where they will be able to display their products.
Global market access: Exhibitions are important platforms for companies, especially MSMEs, to network with global buyers and suppliers. This will further help high performing or qualified MSMEs to participate in international exhibitions as well as trade fairs.
Awareness and publicity: In partnership with the Ahmedabad Management Association (AMA), the government will organize an information dissemination mechanism that will conduct orientation workshops, allowing exporters to promote and explain their products. Trade guides and other informative documents will also be provided.
Grievance redressal: This will allow companies to effectively express their concerns regarding their exports and immediately expect answers in return. Under the Gujarat Industrial Policy, 2020 – a robust grievance redressal mechanism will be set up under the export commissioner to address the concerns of enterprises and to ensure timely redressal of the same.
For more information and advice for foreign investors on doing business in India, please feel free to email us at india@dezshira.com.