We discuss India's trade exposure to Iran and prospects for an import-export rebound in light of US-Iran detente, full operations of Chabahar port, and the changing situation in Afghanistan. A new bilateral preferential trade treaty has also gone through several rounds of negotiations, and would boost India-Iran trade flows, diversify the trade basket beyond energy assets, and bolster regional commercial linkages and investments in connectivity infrastructure.
Iran's vast untapped hydrocarbon reserves and India's ever-growing energy consumption form the basis of India-Iran economic cooperation. However, the two countries are also invested in strengthening their regional connectivity infrastructure to bolster trade and commerce.
With the changing situation in Afghanistan, India and Iran find themselves at an opportune moment to explore the convergence of their mutual interests.
Iran's geographical location offers India a gateway to Afghanistan and Central Asia through the India-invested Chabahar Port as well as access to global markets in Europe and Russia via the International North-South Transportation Corridor (INSTC). These infrastructural linkages hold key to expanding trade and investment prospects in the region, including between India and Iran.
India-Iran trade: Highs and lows
India-Iran bilateral trade registered 23.7 percent growth in the financial year 2018-19 (FY19), peaking at US$17.03 billion with mineral oil and fuel claiming the lion's share in Indian imports, accounting for US$12.3 billion. However, this trend has reversed since May 2019, following the lapse of the oil sanction waiver granted to India by the US. In FY20, bilateral trade stood at US$4.77 billion.
This extended period of no crude oil sale from Iran to India led to the depletion of rupee reserves in UCO bank and IDBI bank, the only two legal lenders facilitating rupee trade with Iran, thereby further reducing the volume of exports from India to Iran. India's overall exports to Iran fell by 42 percent in 2020 from 2019 to US$2.2 billion, the lowest in over a decade. The fall is continuing in 2021, and in January this year, exports more than halved from a year ago, to reach US$100.20 million. Exporters are apprehensive due to depleting rupee reserves and the consequent delay in payments.
Can we expect a change in this bleak bilateral trade scenario?
However, with a change in US leadership, prospects for economic engagement with Iran look promising. The new Biden administration is expected to follow a pragmatic approach towards Iran and the possibility of easing US sanctions is not all that far off. The US stance of negotiating its re-entry into the Joint Comprehensive Plan of Action (JCPOA), which was abandoned by the Trump administration in 2018, reflects Biden's facilitative, outward looking approach moves away from Trump's protectionist, inward looking approach.
India stands to benefit from this new approach, as India is Iran's second largest trade partner for oil, after China. Deeper economic engagement with Iran is crucial for India's energy security. In fact, as per reporting in Reuters, India hopes the thaw in US-Iran relations will enable it to move forward on US$500 million worth investments.
On July 8, India's External Affairs Minister S. Jaishankar travelled to Tehran to call on the Iranian President-elect Ebrahim Raisi, a month before he assumed office. The visit was made enroute Jaishankar's visit to Moscow for bilateral talks between July 7-9. Just last weekend, Tehran invited India to Raisi's official swearing-in ceremony on August 5.
Trade treaty negotiation
Negotiations for an India-Iran bilateral Preferential Trade Agreement (PTA) are ongoing (five rounds have already been held as of June 2021), with a focus on diversifying the bilateral trade basket to include manufacturing, services, and light engineering items. The PTA, which is expected to materialize soon, will allow the two countries to cut tariffs on each other's products. Since Iran is not a World Trade Organization (WTO) signatory, there is no obligation to keep the tariff rates within a specific threshold as prescribed by the WTO.
Indian exports to Iran
Major Indian exports to Iran include semi/wholly milled rice, black tea, fertilizers, organic/inorganic/agro chemicals, machinery and instruments, metals, primary and semi-finished iron and steel, pharmaceutical and fine chemicals, processed minerals, polyester yarn and woven fabrics, and rubber manufactured products.
India caters to more than one-third of Iran's demand for sugar and rice. Iran imported around 700,000 tons of basmati rice from India during the first quarter of 2020. Other agricultural exports to Iran include barley, sesamum seeds, cane sugar, and oil cake etc. In FY19, India's export basket to Iran was valued at US$3.5 billion and in the first 10 months of FY20, this value stood at US$2.8 billion.
Other potential items that can enhance Indian exports to Iran are machinery and instruments, electrical, electronic equipment, vehicles other than railway, tramway, plastics and plastic articles, optical, photo and technical apparatus, pharmaceutical products, animal vegetable fats and oil, ceramic products and pearls, and precious stones.
Indian imports from Iran
Major Indian imports from Iran include crude oil, inorganic/organic chemicals, fertilizers, plastic and articles, glass and glassware, natural or cultured pearls, precious or semiprecious stones, leather, etc. Agricultural imports from Iran comprise of almonds, pistachios, dates, and saffron, etc. In FY19, imports from Iran amounted to US$13.5 billion. In the first 10 months of FY20 (April 2019-January 2020), this value dropped to US$1.35 billion. The main reason for this drastic fall was no import of crude oil from Iran since May 2019.
Business prospects will depend on how regional stakeholders behave
In the period between June 1990 to March 2021, the cumulative Indian foreign direct investment (FDI) in Iran stood at US$5,750.20 million. Large Indian companies, such as ESSAR, OVL, and Tata Steel, etc., have a presence in Iran. (Comparatively, Iranian cumulative FDI into India from 1997 to 2019 stood at just US$905.62 million.)
Iran's vast gas, oil, and hydrocarbon reserves as well as its strategic location makes it an attractive destination for India.
The recent US$400 billion deal between Iran and China to develop Iran's infrastructure and energy in lieu of continual and discounted oil supply to China irked India and may incentivize New Delhi to be more aggressive in its pursuit of trade and commerce relations with Tehran.
Pure rhetoric will not stand for much in the region, and businesses should pay attention to the presence of new regional stakeholders with the departure of US-led NATO in Afghanistan. China is expected to join Russia as a security provider, but India could further its economic and developmental goals through reinforcing infrastructure and easing trade flows via tariff and non-tariff relaxations. This makes sense in light of New Delhi's own reservations on the Belt and Road Initiative and Pakistan (CPEC) versus desire to improve the scope of India-Iran economic and trade cooperation.
Chabahar port and other regional trade facilitation linkages
This is why India has heavily invested in the Chabahar port of Iran, which will provide it with sea-land access to Afghanistan and Central Asia through Iran, bypassing Pakistan. This investment is key to India's strategic ambitions in the region, be it accessing the rich mineral reservoirs of Central Asia or accessing the tactically important Afghanistan in asserting India's role in the security and development of the region.
Recently, India also proposed for the inclusion of Chabahar port in the multimodal INSTC project. Proposed by India, Russia, and Iran in 2000, the INSTC now enjoys the support of 10 other Central Asian countries. It envisions a 7,200 km-long multi-mode network of ship, rail, and road for freight transport, aiming to cut carriage costs by about 30 percent and transit time from 40 days to about 20 days.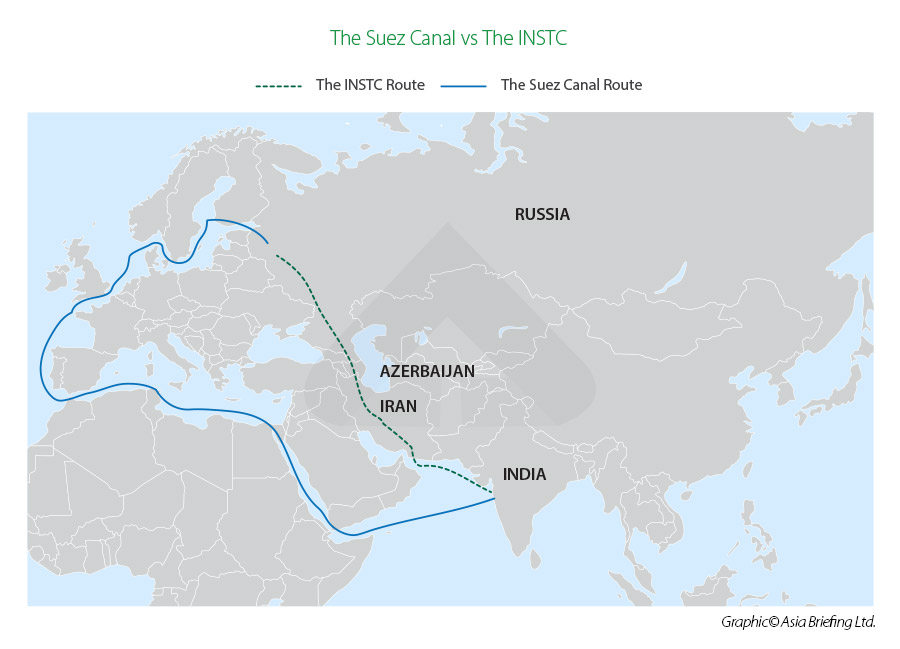 India has been developing two terminals at the Chabahar port, including the Shahid Beheshti complex. Under an agreement with Iran, India will run the terminal for 10 years. Back in December 2018, an Indian company, India Ports Global Limited (IPGL), took over the port's operations.
As of December 2020, the port has handled 1.75 million tons (MT) of bulk cargo and more than 13,000 TEUs of container cargo, as reported by WION media. India has used the port to send 75,000 million tons of wheat to Afghanistan in 2020 as part of humanitarian aid during the pandemic. India has also supplied 20,000 liters of the pesticide Malathion 96 ULV to Iran via the Chabahar port to help the country curb its desert locust outbreak.
Media reports from March quoted India's ports and shipping minister Mansukh Mandaviya, saying that the port would commence full operations by May. Speaking to Reuters, Mandaviya said that Chabahar port had handled 123 vessels and 1.8 MT of bulk and general cargoes from February 2019 to January 2021. Moreover, India has agreed to provide six cranes and other equipment worth US$85 million to equip and operationalize the Shahid Beheshti terminal.
Finally, India also wants to set up an around 600 km railway line from Chabahar port to Zahedan, which is the provincial capital of Sistan-Baluchestan in Iran and is close to the Afghan border. The undertaking is expected to cost US$1.6 billion.