Bilateral trade between India and Vietnam has been steadily rising over the past two decades with significant scope for trade in pharmaceuticals, oil and gas, and IT services.
Vietnam has emerged as an alternative China plus one location for businesses, including Indian investors, for relocating their production hubs.
As both countries look to bounce back after the pandemic, the India-Vietnam relationship remains strong with significant potential estimated at US$1.1 billion in bilateral trade volume.
The year 2020 marks the 42nd anniversary of India-Vietnam bilateral trade. Vietnam and India have shared strong bilateral relations historically, and for the past two decades, trade between the two countries has risen considerably. These economic ties have materialized into several Indian investments in Vietnam in various sectors.
The enormous volatility in the global trade environment has pushed businesses into diversifying their supply chains away from China, which has increased the importance of the India-Vietnam trade route for international business.
India, which is one of the fastest-growing economies in the world, currently ranks fifth globally in terms of GDP. The ASEAN-India Free Trade Area (AIFTA), which Vietnam is a part of, was established in 2009 as a result of convergence in interests of all parties in advancing their economic ties across the Asia-Pacific.
Vietnam's manufacturing industry has rapidly emerged as a highly effective location for incoming electronics and telecom manufacturers who are relocating from China due to increased costs and the US-China trade war. The country has bolstered investor confidence with quick and efficient containment of the COVID-19 pandemic. Vietnam is becoming a leading choice for major companies looking to set up their new manufacturing hubs and diversify their supply chains.
India has significant expertise in IT services, pharmaceuticals, and oil and gas, all of which can significantly benefit Vietnam. Additionally, there are export opportunities in zinc, iron, steel, and man-made staple fibers from India to Vietnam.
A large middle class in India's 1.3 billion population and its customs-duty exemption for ASEAN products make it a lucrative destination for Vietnamese exports. There is a notable scope for the development of services related to wholesale and retail trade, transportation and storage, and business support along with trade opportunities in cotton and knitted clothing.
Bilateral trade
Over the past two decades, bilateral trade between India and Vietnam has steadily grown from US$200 million in 2000 to US$12.3 billion in the financial year 2019-2020.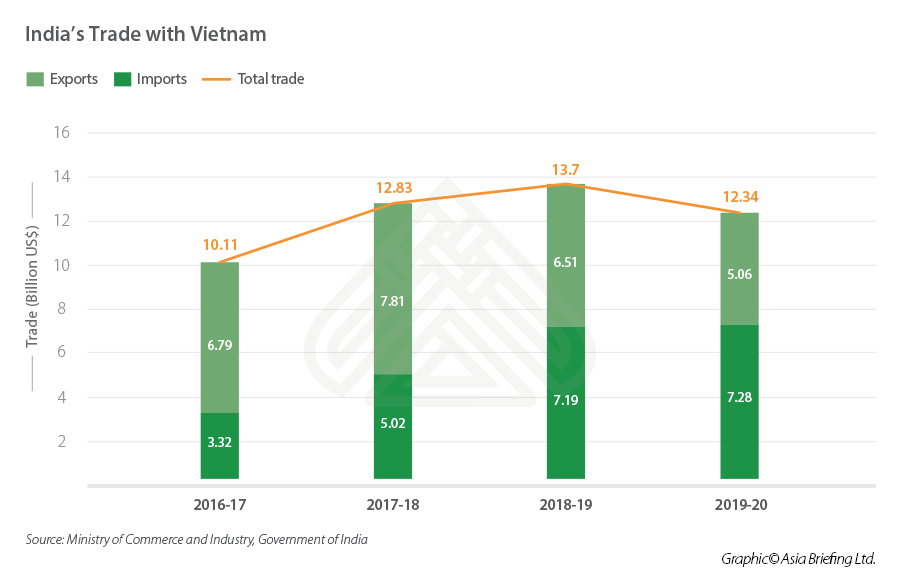 The two countries aimed to raise bilateral trade to US$15 billion by 2020, but COVID-19 related trade disruption resulted in a 9.9 percent trade shrinkage to US$12.3 billion in the last financial year. Vietnam is the 18th largest trading partner of India, while the latter ranks seventh among Vietnam's largest trading partners.
Exports from Vietnam to India include mobile phones, electronic components, machinery, computer technology, natural rubber, chemicals, and coffee. On the other hand, its key imports from India include meat and fishery products, corn, steel, pharmaceuticals, cotton, and machinery.
After India announced its decision to opt-out of the Regional Comprehensive Economic Partnership (RCEP), the India-ASEAN FTA is expected to be reviewed to compensate for the potential trade loss.
Foreign direct investment
Vietnam's strategic location close to existing manufacturing hubs, its favorable position in accessing other Southeast Asian markets, and its proactive approach towards opening its markets to the world has helped it gain popularity as an attractive manufacturing and sourcing location.
The rising importance of Vietnam in global supply chains has the potential to strengthen India-Vietnam ties further. India is estimated to have invested nearly US$2 billion in Vietnam, including funds channeled via other countries. Over 200 Indian investment projects in Vietnam are primarily focused on sectors including energy, mineral exploration, agrochemicals, sugar, tea, coffee manufacturing, IT, and auto components. Several major Indian businesses, such as Adani Group, Mahindra, chemicals major SRF, and renewables giant Suzlon, have shown interest in venturing into Vietnam.
India's salt to IT conglomerate, Tata Coffee, recently inaugurated their 5,000 MTPA freeze-dried coffee production plant in Binh Duong province of Vietnam last year. This US$50 million coffee facility was commissioned within 19 months of the ground-breaking ceremony.
Another example is HCL Technology Group, which is considering establishing a US$650 million technology center in Vietnam and plans to recruit and train over 10,000 engineers within the next five years.
With the implementation of major infrastructure projects like Tata Power's Long Phu – II 1320 MW thermal power project worth US$2.2 billion, the investment figures are expected to rise considerably. The thermal power project was first coined in 2013 and was originally expected to be fully operational by 2022, but the revised seventh Power Development Plan (PDP7) indicates an eight-year delay, shifting its launch to 2030.
This delay appears to be due to Vietnam's shift toward renewable energy. Nevertheless, opportunities remain for Indian investors in the renewable energy industry, specifically in solar and wind, due to increased power demand. Reports indicate that the Tata group is in talks of investing further in solar- and wind-power projects.
Opportunities for Indian investors
Vietnam provides several lucrative reasons to invest, such as increased access to markets, favorable investment policies, free trade agreements, economic growth, political stability, low labor costs, and a young workforce. As per a Standard Chartered report on trade opportunities, Vietnam's exports to India have the potential to grow by 10 percent annually, or approximately US$633 million. This projected growth is primarily focused on goods export (53 percent) and services (46 percent).
Pharmaceutical
Vietnam's domestic pharmaceutical industry is currently able to meet just 53 percent of the country's demand, representing significant opportunities for Indian investors as India is among the leading global producers of generic medicines supplying 20 percent of total global demand by volume. There is an enormous potential for Vietnam to purchase generic medicines from India, but the former is actively trying to get Indian pharmaceutical companies to manufacture in Vietnam instead of importing.
Agriculture
Vietnam is seeking alternate buyers for its agricultural exports, after the reduction in demand from China due to the pandemic. Lifting India's trade barriers on the import of agricultural products can open a new market for Vietnamese agricultural exporters. Also, there is a significant potential for investment in breeding technology, irrigation technology, and storage facilities. Vietnam's topography, climate, and fertile soil make it suitable for coffee plantations. The Tata group has expressed plans for investing in the installation of agricultural machinery to serve demand in the Mekong Delta.
Tourism
The tourism industry in Vietnam is a largely untapped market sector for Indian businesses, which is likely to gain strong traction after the pandemic. The country received over 15.5 million international arrivals in 2018, a seven-fold increase from 2.1 million in 2000. Over 31,400 Vietnamese visited India the same year, a 32 percent increase from the previous year. India is a preferred destination for Vietnamese pilgrims and medical tourists.
India's low-cost carrier Indigo launched direct flights linking India's Kolkata with Vietnam's Hanoi and Ho Chi Minh City in November 2019. Following this launch, Vietnamese low-cost carrier, Vietjet Air started direct flights connecting India's New Delhi with Hanoi and Ho Chi Minh City. Improved connectivity will help Vietnam in diversifying its tourism portfolio, which currently is largely dependent on Chinese and South Korean tourists.
Supporting industries
Vietnam is an attractive destination to produce and export, thanks to its assortment of free trade agreements with several countries, allowing products to be exported to these countries with attractive low tariffs. There is a need for the development of the local supporting industry to support major manufacturers, and Indian businesses have the potential to fill the gaps in this sector.
Takeaways
With Vietnam's strong economic growth in the past few years, a review of the India-ASEAN free trade agreement is necessary to foster further trade in promising emerging sectors between both countries. As pointed out by the Standard Chartered report, there is considerable scope to increase trade between India and Vietnam should both governments take a proactive approach to trade and investment and realize this potential.
A version of this article was originally published on our affiliate-platform Vietnam Briefing.