Late last year, India and Italy inked 15 agreements covering trade and investment, shipbuilding and energy, and sealed a broad-based Plan of Action 2020-24 to enhance their economic partnerships and collaboration.
Sectors covered in the Plan of Action include high technology, clean energy and energy sector development, infrastructure, and food processing.
Opportunity to boost trade also exists with rising consumption standards and an aspiration middle class.
As geopolitical trends cause stir in the relationships among different regions in the world, India and members of the European Union (EU), including Italy, find themselves in a mutually beneficial position to strengthen their engagement at all levels: diplomatic, economic, and strategic. The newfound spirit to resume negotiations for a Free Trade Agreement (FTA) between the two parties bears testimony to this fact.
India and Italy are natural allies whose bilateral trade trajectory has been charting an upward graph, with Italy being India's fifth largest trading partner in EU. Post a brief hiatus in 2012-13 following an Italian economic recession as well as tensions due to the arrest of two Italian marines (who had gunned down two unarmed Indian fishermen to death, confusing them to be pirates), the Indo-Italian relationship was re-energized in 2016 with "Science Diplomacy".
The relationship further picked up pace in 2018 following Italian Prime Minister Giuseppe Conte's visit to India. Subsequently, the India-Italy Joint Commission on Economic Cooperation (JCEC) was tasked with constituting a CEO Forum and setting up a Fast-Track Mechanism to promote two-way investment. India's focused policies like "Make in India", "Smart Cities", and ease of doing business norms, etc. contributed to this trend.
Now, with the newly defined objectives of global governance in the post-COVID-19 world, driven by the agenda to bring public goods and global commons at the center stage, both India and Italy have recognized the opportunity to deepen their collaboration and cooperation. This becomes more relevant with both the countries set to hold consecutive presidencies (Italy in 2021 and India in 2023) of the G20, the premier forum for international economic cooperation.
In November 2020, India and Italy inked 15 agreements covering trade and investment, shipbuilding and energy, and sealed a broad-based Plan of Action 2020-24 to enhance their economic partnership by collaborating in high technology, clean energy and energy sector development, infrastructure, and food processing.
Bilateral trade and investment scenario
Trade
Italy and India are important trading partners in key sectors, such as finance, railway development, fashion industry, and automobile manufacturing.
Bilateral trade between the two countries was valued at US$5.7 billion between April-December 2020, with major imports from Italy to India being electrical machinery and nuclear reactors. This is considerably lower than the 2019 figure, which stood at US$11.3 billion. The drop can be explained by the overall plunge in economic activity and barriers to trade caused by the COVID-19 pandemic. Market watchers expect the decline in two-way trade volume to be temporary.
Key exports from Italy include automobiles except railway or tramway stock; nuclear reactors and mechanical appliances; pharmaceutical products; electrical equipment and machinery; fashion apparel etc.
With India's large markets, characterized by a growing consumerist middle class, and a serious pivot to upgrading manufacturing capacity, Italian products can expect committed buyers, especially for highly specialized mechanical machinery and equipment that comprise 24 percent of Italy's total exports.
Another sector where Italy has carved a niche for itself in global markets is fashion apparel and accessories, which account for 11 percent of Italy's total exports to the world. India's consumer base is witnessing a change in tastes and preferences, heading towards luxurious products and aspirational purchases due to the rise in standards of living and social media exposure. Italian products hold the potential to cater to these changed preferences. Key metropolises like Bangalore, Mumbai, and Delhi are strategic markets for luxury goods.
The balance of trade between India and Italy has been in India's favor for the most part since 1980s, except in 2018-19 and 2019-20 when Italy saw a positive balance in its favor. Major exports from India to Italy include fish and crustaceans, steel and iron products, aluminum etc.
Investment
Italy is the 18th largest foreign direct investment (FDI) contributor to India; Italian FDI was projected to reach the US$2 billion mark by 2020 end. According to Italian embassy data, there are over 600 Italian companies present in India. The highest FDI inflow from Italy was directed at the automobile sector, at 54 percent, followed by services sector at six percent and railways at four percent.
Automobile
The automobile industry in India, with a current valuation at US$100 billion, offers immense promise to Italian investors. Some of the existing Italian companies in this sector in India are Fiat and Piaggio.
Pharmaceutical
A lucrative sector, India's manufacturing capacity is well known but there is opportunity for Italian investors as the country seeks to modernize and upgrade key segments.
New hubs are emerging, and incentives are available. India is also the third largest pharma market in terms of volume. Italian pharmaceutical companies in India include Olon SPA and Fedegari Autoclavi.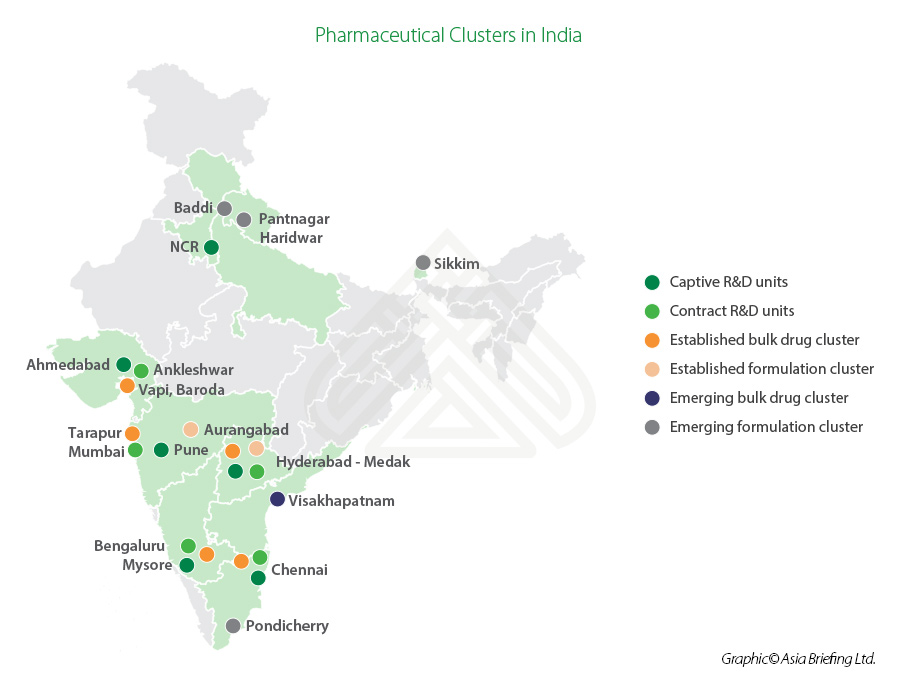 Railways and energy
Railways and renewable energy are other important sectors where Italian FDI can result in huge returns.
In the railways segment, Indo-Italian joint stock company Titagarh Firema is complementing India's "Make in India" movement. It will be the first company in India to manufacture the lightest aluminum bodied metro coaches for Pune-Metro.
In the renewable energy segment, Enel and Building Energy are major Italian players.
Food processing
India's food processing industry too has experienced exponential growth potential in recent years, helped additionally by new production-linked incentives (PLI). There is scope for increasing collaboration with Italy in this industry as the country is a leading exporter of food packaging and processing equipment. In 2019, Italy exported US$67.02 million worth of packaging machines to India. The pandemic has reasserted the heightened need for better engagement in the food packaging segment. At a virtual two-day event on food processing last year, organized by the Embassy of Italy and the Confederation of Indian Industries (CII), India's Minister for Food Processing Industries, Harsimrat Kaur Badal said, "India is promoting food processing in a big way by offering an incentive of $1 billion, with hope of leveraging another investment of $5 billion. We invite Italy to invest in us and our 42 mega food parks. You can come and just plug and play." She added that India has also opened to the importance of ready-to-eat and frozen food during the COVID outbreak.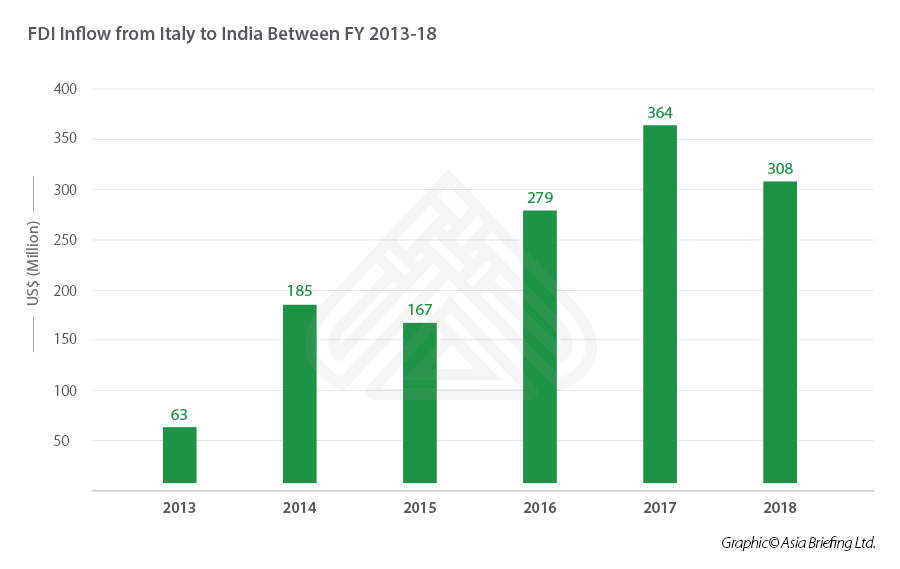 Partnership based on mutual benefits, economic synergy
With inherent strengths in manufacturing, design and innovation, and skills training, Italy can offer economic complementarity to India – through training support, research and development, technology, and critical goods in rapidly growing segments. This increasing engagement is also important for the development of India's industrial manufacturing ecosystems.
On its part, India boasts of a demographic dividend, a vast pool of skilled human resources, competitive wage rates, and an edge in industries catering to leather, gems and jewelry, auto components, and textiles.
Moreover, in terms of setting up in the country, Italian companies that were earlier concentrated in metropolis cities like Delhi and Mumbai are gravitating towards tier-2 and 3 cities; these locations have benefited from rapid urbanization, improved infrastructure, and connectivity as well as offer highly competitive costs.
Overall, India and Italy have more in common than is realized.
Both countries have set ambitious economic targets and face obstacles, such as boosting economic growth, combating the pandemic, and overcoming geopolitical strains, including diversifying trade exposure to China. These common challenges can potentially invigorate the bilateral relationship. India, with its vast untapped markets, unexplored industrial capacity, and need for infrastructure upgrades, is vying for Italian expertise, technology transfer, and investments.
A meaningful collaboration will surely be a win-win for both the countries.
Our parent firm, Dezan Shira & Associates, has a 29-year history of assisting foreign investors into Asia. With India offices in New Delhi, Mumbai, and Bangalore and Italian liaison offices in Conegliano, Udine, and Milan, we are at the forefront of assisting EU investment and trade into the country. Please feel free to connect with our experts by emailing us at india@dezshira.com.