India's Transition to Clean Mobility: Investment Landscape and Future Prospects, the latest publication from Dezan Shira & Associates is out now and available for download through the Asia Briefing Publication Store.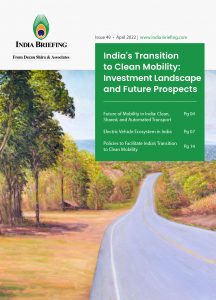 In this issue
Future of Mobility in India: Clean, Shared, and Automated Transport
Electric Vehicle Ecosystem in India
Policies to Facilitate India's Transition to Clean Mobility
Transportation claims a major share in India's growth story, and factors like technology, accessibility, affordability, and sustainability have been redefining mobility solutions. Technological advancements and efforts to transition to cleaner alternatives, such as by electrification or use of green hydrogen, are set to impact both automotive manufacturing industry capabilities and diversify consumer market choices. 
Meanwhile, India is committed to lowering carbon emissions and increasing the use of cleaner sources of energy and transportation. At the 26th Conference of Parties, held in Glasgow last year, India set itself a target of net-zero carbon emissions by 2070, along with increasing its non-fossil capacity to 500 gigawatts by 2030. India also committed to reduce one billion ton of the total projected carbon emission between 2021 and 2030. Recent initiatives by central and state governments steer the country towards achieving these essential climate goals.
For example, the Indian government (at all levels) has backed the development of the country's electric vehicle industry: 100 percent FDI is possible, incentive schemes have been introduced to encourage technology innovation and supply chain capacity building in the automobile manufacturing sector, and targets have been set to rapidly expand public charging infrastructure. Relevant policy measures include pushing automotive industry standards from BS-IV norms to BS-VI norms, production-linked incentive schemes (PLIs), FAME II (Faster Adoption and Manufacturing of Hybrid and Electric Vehicles), National Green Hydrogen Policy, Biofuel Policy etc. Besides, there has also been a concerted push for clean mobility through corporate rebranding programs and electric vehicle (EV) awareness drives. The website e-AMRIT – https://www.e-amrit.niti.gov.in/ – was launched in 2021 and functions as a one-stop destination for all information on EVs. It addresses key concerns about the adoption of EVs and their purchase – such as charging facility locations and EV financing options – as well as information about investment opportunities, government policies, and available subsidies for drivers and manufacturers. 
Federal subsidies and policies currently favor discounts for Indian-made EVs. PLI schemes have been introduced to promote the local production of ACC battery storage and for the automotive sector to boost local manufacturing of EVs and hydrogen fuel cell vehicles.
As of April, India approved bids for four companies to avail incentives under the PLI Scheme for ACC Battery Storage Manufacturing. The companies are Reliance New Energy Solar Limited, Ola Electric Mobility Private Limited, Hyundai Global Motors Company Limited, and Rajesh Exports Limited. These companies will receive incentives under the INR 181 billion program to boost local battery cell production and must set up a production facility within two years.
In March, 75 companies secured PLI approval under the "Component Champion Incentive Scheme", including Maruti Suzuki, Hero MotoCorp, Tata Autocomp, Mitsubishi Electric, Toyota Kirloskar, Motherson Sumi, Bosch, and Lucas-TVS.
In February, 20 companies were approved as PLI beneficiaries under the "Champion OEM Incentive Scheme". The approved applicants (including existing automotive and auto component firms and new non-automotive industry investors) proposed investments worth INR 450.16 billion (US$5.88 billion) under the Champion OEM Incentive Scheme and INR 298.34 billion (US$3.90 billion) under the Component Champion Incentive Scheme.
Just in April, the government's frontier think tank, Niti Aayog, announced a draft battery swapping policy to develop the battery-as-a-service segment. That draft policy is open for comments from relevant stakeholders till June 2022. The draft policy, which will be valid till March 31, 2025 from the date of its notification, is specifically designed for battery swapping systems to be used for two-wheelers and three-wheelers.
All these trends indicate that a larger transformation is underway to increase the adoption and affordability of cleaner mobility solutions in India. In this issue of India Briefing Magazine, we first examine these trends and how they are reimagining mobility in India, followed by a deep dive of the existing electric vehicle ecosystem and India's policies guiding the country's gradual transition to clean mobility.
While India's transportation sector contributes to 6.3 percent of India's GDP, it is a major consumer of energy and a top polluter. Implementing climate positive policies will open up several foreign investment opportunities targeting automotive and auto components manufacturing, R&D, logistics, support infrastructure, and associated industries. 
To learn more about changes in the Indian automotive industry and mobility landscape as well as opportunities for market entrants, feel free to reach out to our advisors at Dezan Shira & Associates by emailing to india@dezshira.com. Dezan Shira & Associates has helped environment and cleantech investors across China, ASEAN, and India. From pre-investment studies and strategy development to setup and helping with requisite compliances, the firm has tailored its services to help foreign companies enter this emerging industry in Asia.