Tamil Nadu is a top investment destination in India for foreign investors due to the state's advanced infrastructure and network capacity as well as locational advantages that cater to its well-established manufacturing ecosystem and facilitate exports. Recently, the Tamil Nadu state government announced a price cut for plots in the SIDCO industrial region to promote export-oriented MSMEs.
---
The state of Tamil Nadu is located in the southernmost part of India and is bordered by prominent industrial and coastal states – Andhra Pradesh, Karnataka, and Kerala – and the union territory, Puducherry. It is the 10th largest state by area and India's second largest state economy.
In terms of Tamil Nadu's natural geography, the Eastern Ghats are to its north, the Nilgiri Mountains, the Meghamalai Hills, and Kerala lie to the west, the Bay of Bengal is in the east, the Gulf of Mannar and the Palk Strait are in the southeast, and the Indian Ocean is to its south. Tamil Nadu shares a maritime border with Sri Lanka.
Tamil Nadu's economic activity centers around its service, manufacturing, and agricultural sectors. Foreign investments contribute 14.9 percent to the total investments received by the state. Tamil Nadu boasts of the second highest nominal gross state domestic product (GSDP) in India at US$260 billion in 2019-20.
44 private companies from Tamil Nadu figure in the first edition of the '2021 Burgundy Private Hurun India 500' Report, which tracks the 500 most-valued, non-state-owned companies in India. The Report is produced by Burgundy Private, Axis Bank's Private Banking Business, and Hurun India. Companies are ranked according to their value - defined as market capitalization for listed companies and valuations in case of non-listed companies. The most valuable companies include Titan Company, Ramcharan & Co, and Apollo Hospitals Enterprise, Cholamandalam Investment and Finance Company, Ashok Leyland, Zoho Corporation, MRF, TVS Motor Company, Hatsun Agro Product, and Tube Investments of India. In terms of a sector breakdown, financial services lead the way with nine companies, followed by automobile and auto components (seven companies) and healthcare (five companies).
Some of the Most Valuable Companies in Tamil Nadu's Private Sector

Company

Amount

Titan Company

INR 2184 billion (US$ 28.84 billion)

Ramcharan & Co (Unlisted)

INR 675 billion (US$8.91 billion)

Apollo Hospitals Enterprise

INR 594.98 billion (US$7.86 billion)

Cholamandalam Investment and Finance Company

INR 511.07 billion (US$6.75 billion)

Ashok Leyland

INR 416.4 billion (US$5.75 billion)

Zoho Corporation (Unlisted)

INR 368 billion (US$4.86 billion)

MRF

INR 336.63 billion (US$4.45 billion)

TVS Motor Company

INR 297.33 billion (US$3.93 billion)

Hatsun Agro Product

INR 286.35 billion (US$3.78 billion)

Tube Investments of India

INR 274.20 billion (US$3.62 billion)

Five Star Business Finance (Unlisted)

INR 103 billion (US$1.36 billion)

Neuberg Diagnostics (Unlisted)

INR 90 billion (US$1.19 billion)
Below, we briefly discuss the state's economic profile and what makes it attractive to foreign investors and export-oriented manufacturers.
Tamil Nadu Fact Sheet and Map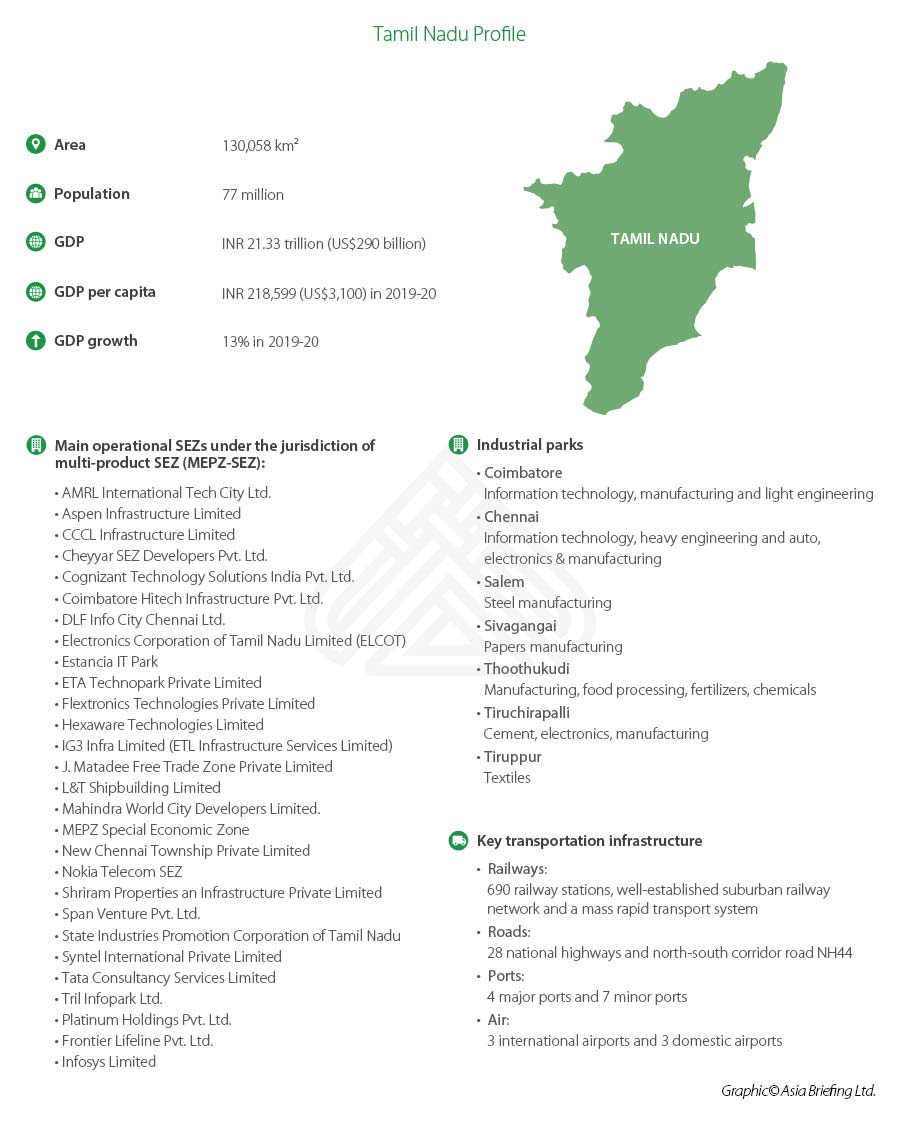 Economic profile – mature industrial capacity, incentive zones
Tamil Nadu is a diversified and well-known industrial state, having witnessed spectacular growth in the three decades since India liberalized its economy. This growth was supported by its locational advantages, state investment in infrastructure and logistics, a predictable business environment, and a stable system of governance due to key local stakeholders.
The service sector accounts for 45 percent of the state's economic activity, the manufacturing sector accounts for 34 percent, and the agricultural sector – 21 percent.
Tamil Nadu is a hub for major manufacturers in India – particularly in the automotive and electronics industries. It holds the position of being India's largest tire manufacturer, first in wind energy production, and second in terms of electronics hardware manufacturing.
The state's textile sector is the third-largest recipient of foreign direct investment (FDI) to India – three-fourth of powerloom output is earmarked for direct and indirect exports.
In 2018-19, Tamil Nadu's export volume stood at US$30.5 billion, contributing 9.25 percent to India's total exports. The state was also responsible for 45 percent of India's auto exports and accounted for 35 percent of India's auto component exports.
Tamil Nadu is home to 41 operational special economic zones (SEZs), 39 industrial clusters, and five industrial corridors.
Key industries
Aerospace and defense
Tamil Nadu houses 120 aerospace component manufacturing companies and over 700 component suppliers, which offer employment to the 500 aerospace engineers that graduate every year from the state. A strategic partnership model is being planned with private firms that manufacture defense equipment, that will allow them to enhance their performance across various military bases long-term.
By 2025, the government aims to achieve exports worth US$5 billion, by allowing 100 percent FDI if foreign firms are willing to comply with a full transfer of technology. This will also incentivize the market entry of new manufacturers. The state government has, meanwhile, set aside investment worth INR 31 billion (US$418 million) to develop the Tamil Nadu defense corridor.
Key investment opportunities in aerospace and defense industries in the state include the development of maintenance repair overhauling (MRO) facilities, building flying schools, and upgrading existing airports.
The state's advanced computing and design engineering center (ACDEC) will provide cutting-edge technology and infrastructure to support innovation in the industry. Industrial growth in this sector is facilitated by the TIDCO aerospace parks (250 acres) and an MRO facility in Krishnagiri. There is an MRO facility being set up in the capital, in Chennai.
Agro and food processing
Tamil Nadu is the second highest manufacturer of food processing units in India, contributing eight percent to India's total food processing output.
The state has an existing network of agricultural colleges and research centres that contribute to a large talent pool. Strong human resource capacity is critical given that the state is establishing six mega food parks and eight agro processing clusters. Further opportunities to invest in this industry include: infrastructure, contributing innovative technologies and bettering the logistics and supply chain.
Tamil Nadu is the country's leading producer of mangoes, bananas, turmeric, papayas, rice, maize, sugarcane, coconuts, groundnuts, cashews, beans, and grapes. It is the largest producer of tapioca and tamarind, second in the production of poultry and eggs, third in tea and coffee, and fourth in marine fish production.
Food grain production has been consistently surpassing ten million metric tons. Leading multinational companies (MNC) involved in the food processing business and set up in Tamil Nadu include Tata Coffee, Britannia, Nestle, Pepsico, Lotte, Suguna foods, Hindustan Unilever Limited, and ITC Limited.
100 percent foreign direct investment (FDI) is allowed under the automatic route for food processing (manufacturing).
100 percent FDI is allowed in food processing (trading, including through e-commerce) – through the government approval route.
By 2020, the Indian food market is expected to be worth US$828.92 billion and its dairy industry to double to US$140 billion.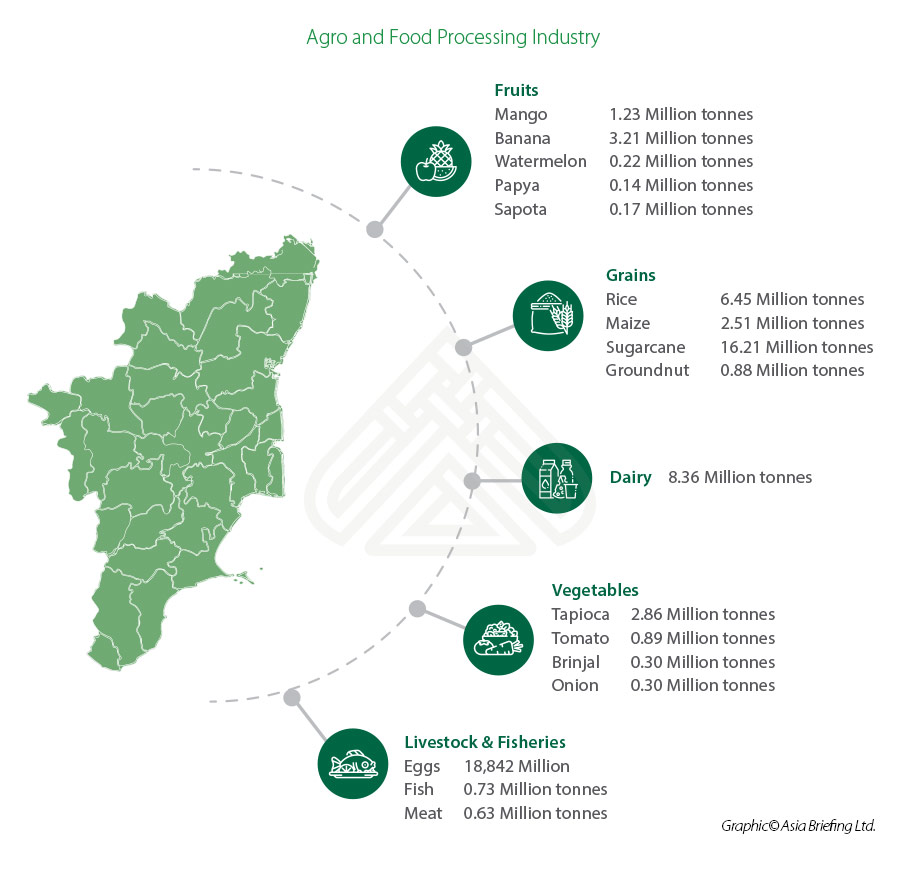 Automobiles
Tamil Nadu is among the top 10 automobile hubs of the world. Its well-developed ecosystem accounts for 35 percent of the auto component production in India. The industry produces two wheelers, three-wheeler passenger vehicles, commercial vehicles, and electric vehicle (EV) components. The state has more than 1,300 factories involved in the production of motor vehicles, trailers, and semi-trailers.
Graduating students from over 200 automobile engineering colleges are able to find jobs in major multinational original equipment manufacturer (OEM) companies, such as Hyundai Motor Co., BMW, Renault-Nissan, Ford Motors, TVS Motors, Yamaha Motors Ford, and Royal Enfield.
The automobile industry in India allows 100 percent FDI under the automatic route – that is, no prior approval is needed from the government of India or the Reserve Bank of India (RBI). Investors can choose to invest in the following areas: establishing a well-functioning auto supplier ecosystem, proactive EV implementation and setting up a major research and development centre and testing and certification centre.
By 2026, the Indian automobile industry is expected to be worth US$300 billion.
Chemicals and petrochemicals
Tamil Nadu has an established manufacturing base, which includes downstream industries in different segments combined with the availability of human resources, international shipping routes, and world-class ports – that enable it to be a major exporter of chemicals.
Tamil Nadu ranks sixth in the Indian chemical industry in terms of sales and contributes six percent to the total Indian chemical production output.
The state has more than 2,588 factories in this industry. Leading MNC chemical/petrochemical manufacturers in Tamil Nadu include IFF, Dow, CPCL, Tata Chemicals Limited, Sanmar, SPIC, Takasago etc.
The polymer industry of plastic production and consumption provides employment to over 1 million employees through more than 8,000 micro, small, and medium-sized enterprises (MSMEs). With help from interested investors, the state will be able to have more petrochemical complexes and refineries, that will be able to produce more agrochemicals, polymers, paints, and dyes.
Between 2013-17, chemical exports from Tamil Nadu rose by 13.5 percent. The top three commodities exported were petroleum products (38 percent), residual and allied products (15 percent), and miscellaneous products (15 percent).
Electronics and hardware
Tamil Nadu contributes 16 percent to the national production of electronics. It has become India's third-largest exporter of electronics and in 2017-18, it accounted for US$1.63 billion worth of exports. Foreign investment opportunities in this industry include in infrastructure, innovative technologies, logistics and supply chain, and other enabling segments.
Tamil Nadu has a strong base that supports mobile manufacturing, consumer electronics, electronic components, industrial electronics, strategic electronics, and computer and peripheral equipment. However, the bulk of Tamil Nadu's electronic output includes desktops, printers, computers, and servers.
Downstream industries include automotive electronics, consumer electronics, mobile phones and its components manufacturing, semiconductor fabrication, and telecom products and equipment. Leading MNCs set up here include Panasonic, Toshiba, Hitachi, Nokia, Dell etc.
Multisector SEZs in Oragadam and Sriperumbudur are two special economic zones that have been set up for the electronics and hardware sector and are located in the Kancheepuram district.
Currently, Tamil Nadu is second in both smartphone production as well as number of internet subscriptions in the country, which leaves ample scope for the growth of digital economy enterprises here.
Information technology and IT-enabled services
Tamil Nadu accounts for 11 percent share of the total IT investments in India. Chennai, the capital city of Tamil Nadu, is considered the software as a service (SaaS) capital of India and a leading outsourcing hub. Tami Nadu is home to leading MNCs like IBM, Cognizant, TCS, Infosys, HCL, World, Accenture, Amazon, to mention a few.
The state offers the IT industry the benefits of an integrated infrastructure, including state-wide area network, cloud computing, and a disaster data recovery centre – combined with world-class communication infrastructure that is facilitated by six submarine cables that connect Chennai to the world. Direct employment opportunities cater to almost 661,000 people, including 90,000 local annual graduates from IT disciplines, in 18 dedicated SEZs.
The Electronics Corporation of Tamil Nadu (ELCOT) has developed eight IT parks spanning a total of 1,321 acres across the tier I and tier II cities. The IT parks and investments made in them are as follows:
Gangaikondan, Tirunelveli – INR I,940 million (US$26 million);
Ilanthaikulam, Madurai – INR 344 million (US$4.6 million);
Jagirammapalayam, Sale – INR 1,940 million (US$26 million);
Navalpattu, Tiruchirappalli, INR 600 million (US$8.1 million);
Sholinganallur, Chennai – INR 1,940 million (US$26 million);
Vadapalanji, Madurai – INR 450 million (US$6 million);
Vilankurichi, Coimbatore – INR 1,940 million (US$26 million); and
Viswanathapuram, Hosur – INR 1,940 million (US$26 million).
Besides these parks, investments can also be made in data centers and engineering and research/development centers.
In 2017-18, IT exports were worth US$15 billion and FDI received was US$6 billion. By 2025, India is to account for 41 percent of the digital engineering services market and aims to become a US$1 trillion digital economy.
Export potential
Tamil Nadu is the third largest exporting state of India. Automobiles, leather, readymade garments, and footwear are among the most exported commodities from the state.
Commodities can be exported by following the process below:
Establishing an organization;
Opening a bank account;
Obtaining permanent account number (PAN);
Obtaining importer-exporter code number (IEC);
Receiving a registration cum membership certificate (RCMC);
Selection of product;
Selection of markets;
Finding buyers;
Sampling;
Pricing;
Negotiation with buyers; and
Covering risks through the Export Credit Guarantee Corporation of India (ECGC).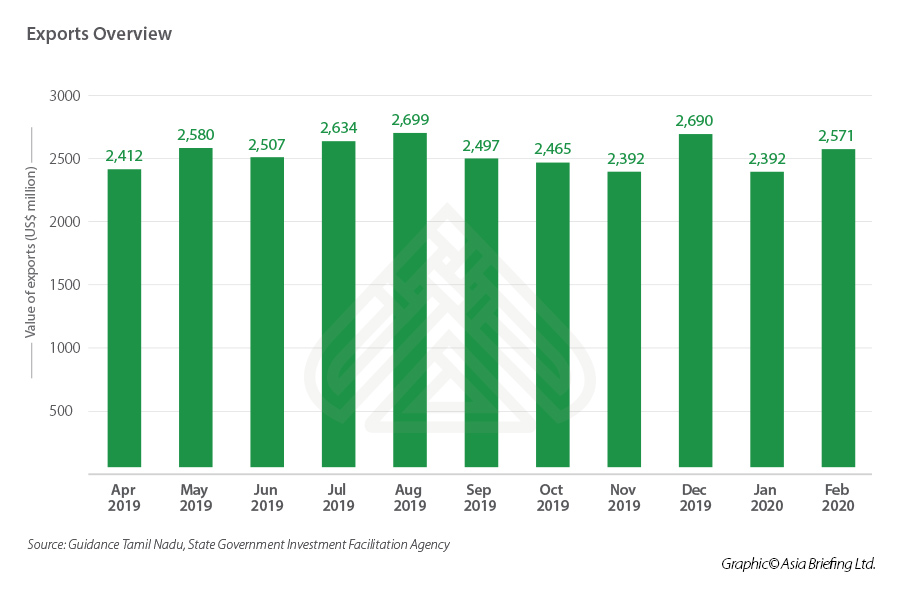 The Tamil Nadu state government offers the following incentives to attract export-oriented MSMEs:
Financial assistance to the MSME sector for participating in trade fairs abroad;
Full subsidies on rent and shipment of MSMEs that exhibit/participate in international trade fairs;
MSME market development assistance scheme for airfare expenses (funding up to 90 percent) for MSME entrepreneurs to participate in overseas trade fair/delegation; and
Funding also available for producing publicity material.
Support for export-oriented MSMEs
On December 7, 2021, the Tamil Nadu state government also announced its intention to reduce prices of industrial plots inside the SIDCO industrial estates to support MSMEs that are recovering from the impact of the pandemic. The proposed price cut will help MSMEs to set up shop at a lower price, fulfilling the sole objective of setting up such industrial estates, which is to promote MSME units. In Uthangarai SIDCO Industrial estate, Krishnagiri district, the price has been reduced to INR 3.08 million per acre from INR 11.98 million per acre; at Kumbakonam Industrial Estate, the prices have reduced to INR 8.18 million from INR 30.49 million; in Nagapattinam, prices are down to INR 8.53 million from INR 23.97 million; in Kurichi Industrial Estate, Coimbatore District, it is now INR 42 million from INR 90 million earlier; and at Winnamangalam Industrial Estate in Tirupathur District, the prices have been slashed to INR 20 million from INR 40 million.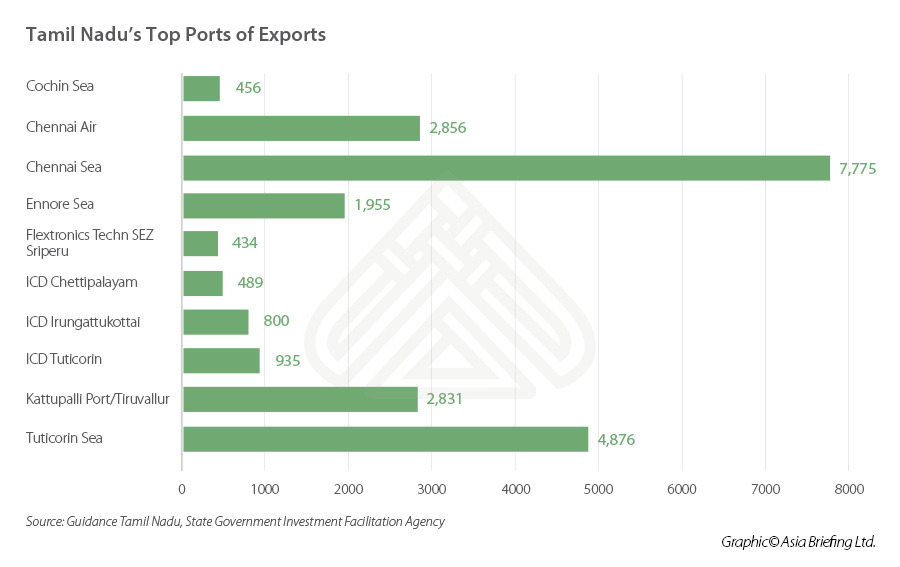 This article was originally published on December 23, 2021. It was last updated on December 9, 2021.
For more information and advice for foreign investors on doing business in India, please feel free to email us at india@dezshira.com.