India's trade and investment relationship with the Gulf Cooperation Council (GCC) member states – UAE, Saudi Arabia, Kuwait, Qatar, Oman and Bahrain – has strong foundations, driven by India's historical linkages with the region, India's dependence on Gulf energy exports, and the Gulf dependence on India for food security and agricultural exports. Most GCC member nations have seen increased investment inflow from India towards their development plans. Moreover, the UAE and Saudi Arabia are increasing trade engagement with India, and have emerged as India's third and fourth largest trading partner, respectively. This increasing economic synergy may facilitate fresh momentum to free trade agreement (FTA) talks between India and the GCC, which have been in the works since 2004.
---
India's economic ties with the six member nations of the Gulf Cooperation Council (GCC) have been traditionally significant, with GCC's substantial oil and gas reserves catering to the bulk of India's energy requirements. At the same time, India is important for the GCC's food security considerations. Consequently, India and the GCC have recognized and formalized their relationship to being a "strategic partnership".
These commercial ties have experienced further upgradation since 2015 on the back of cooperation in trade, investments, diaspora engagement, counterterrorism, and security cooperation.
Official data suggests that India's bilateral trade with all the six members of GCC countries, including the United Arab Emirates (UAE) and Saudi Arabia, has increased significantly in financial year (FY) 2021-22 on account of increasing economic engagement between the two regions. These increasing figures assume significance as India is looking at negotiating a free trade agreement (FTA) with the GCC.
What is the GCC?
GCC, headquartered in Riyadh, Saudi Arabia, was established by an agreement concluded in 1981 among Bahrain, Kuwait, Oman, Qatar, Saudi Arabia, and UAE in view of their special relations, geographic proximity, similar political systems based on Islamic beliefs, joint destiny, and common objectives. It followed the Islamic Revolution in Iran in 1979.
The GCC charter calls the Council a political, economic, social, and regional organization.
The structure of the GCC consists of the Supreme Council (the highest authority), the Ministerial Council, and the Secretariat General.
India-GCC strategic relations
India-GCC Industrial Conference: The first GCC-India Industrial Conference was held in Mumbai in February 2004, the second was held in Muscat, Oman, in March 2006, the third was held in Mumbai in May 2007 and the fourth was held at King Abdullah Economic City, Jeddah, Saudi Arabia, in November 2015. The fifth GCC conference was held in November, 2022 in India.
India-GCC FTA: India and the GCC signed a Framework Agreement for enhancing and developing economic cooperation between the two sides in New Delhi in August 2004. Two rounds of talks for finalizing aspects like tariff rules, rules of origin, etc have been held. The India-GCC FTA is under negotiation and may benefit from some renewed momentum following the India-UAE FTA.
India-GCC trade and investment trends
As per data from India's commerce ministry, bilateral trade between India and the GCC has increased to US$154.73 billion in FY 2021-22 from US$87.4 billion in 2020-21. India's exports to the GCC witnessed a 58.26 percent increase to about US$44 billion in FY 2021-22, against US$27.8 billion in FY 2020-21.
The share of these six countries in India's total exports has risen to 10.4 percent in FY 2021-22, up from 9.51 percent in FY 2020-21. The data suggests that imports, too, rose by 85.8 percent to US$110.73 billion compared to US$59.6 billion in 2020-21. The share of GCC members in India's total imports rose to 18 percent in FY 2021-22 from 15.5 percent in FY 2020-21.
India's top three exports to the GCC member countries include crude petroleum (40 percent), petroleum gas (18 percent), and diamonds (eight percent). At the same time, India's import basket from the GCC comprises of refined petroleum (14 percent), jewelry (eight percent), and rice (seven percent).
Meanwhile, bilateral trade in services between India and the GCC nations was valued at about US$14 billion at the time, with exports amounting to US$5.5 billion and imports amounting to US$8.3 billion.
Trade and investment snapshot:
UAE, one of the six GCC member countries, is India's third largest trading partners, following the US and China. At the same time, it is among the top 10 largest source countries of foreign direct investment (FDI) inflow in India. In 2022, India and UAE signed a Comprehensive Economic Partnership Agreement (CEPA). Under the agreement, the UAE is set to eliminate duties on 80 percent of its tariff lines which account for 90 percent of India's exports to the UAE by value. This agreement is expected to increase the total value of bilateral trade in goods to over US$100 billion and trade in services to over US$15 billion within five years. Key domestic sectors that are set to benefit include, gems and jewelry, textiles, leather, footwear, sports goods, engineering goods, automobiles and pharmaceuticals. India-UAE have also become a part of I2U2 (India-Israel-US-UAE) economic framework, under which UAE has announced an investment of US$2 billion to develop  integrated food parks in India.
Saudi Arabia emerged as India's fourth largest trading partner with a total trade volume of total volume of US$42.9 billion in FY 2021-22.
Qatar is another significant partner for India, accounting for 41 percent of India's total natural gas imports. India and Qatar have recently launched the "India-Qatar Start Up bridge" that aims to link the start-up ecosystems of the two countries.
Oman, too, hosts many important Indian financial institutions as well as companies, which have invested in sectors like iron and steel, cement, fertilizers, textile etc. Bilateral trade between Oman and India stood at US$5.931 billion in FY 2019-20, while bilateral trade in 2020-21 (April 2020 to February 2021) amounted to US$4.63 billion. Omani-India trade benefits from the fact that Oman's ports are five days shipping time from India's western coast. In 2021, India stated that it was looking at a FTA with Oman. 
India's trade deficit with GCC
Among the GCC countries, the UAE is India's major destination for exports worth US$28 billion, followed by Saudi Arabia (US$8.8 billion), Oman (US$3.1 billion), Qatar (US$1.8 billion), Kuwait (US$1.2 billion) and Bahrain (US$900 million) in FY 2021-22.
India had the highest trade deficit (FY 2021-22) with Saudi Arabia (US$25.3 billion), followed by the UAE (US$16.8 billion), Qatar (US$11.4 billion), Kuwait (US$9.8 billion), and Oman (US$3.6 billion) whereas India had a trade surplus of $147 million with Bahrain.
In FY 2021-22, India's trade balance with the GCC countries was unfavorable in a number of areas, including petroleum products, pearls, precious and semi-precious stones, gold, plastic raw materials, organic chemicals, products made of aluminium, inorganic chemicals, bulk minerals and ores, and dye intermediaries.
India-GCC Trade Statistics (US$ Million)

Year

Saudi Arabia

UAE

Oman

Kuwait

Qatar

Bahrain

Total

 

 

Imports

FY 2017-18

22,070

21,739

4,264

7,166

8,409

431

64,079

FY 2018-19

28,479

29,785

2,759

7,431

10,722

540

79,716

FY 2019-20

26,857

30,257

3,669

9,574

9,686

422

80,465

FY 2020-21

16,187

26,623

3,088

5,214

7,930

547

59,589

FY 2021-22

34,100

44,833

6,840

11,001

13,193

753

1,10,720

 

Exports

FY 2017-18

5,411

28,146

2,439

1,366

1,472

557

39,391

FY 2018-19

5,562

30,127

2,246

1,334

1,611

742

41,622

FY 2019-20

6,237

28,854

2,262

1,287

1,268

559

40,466

FY 2020-21

5,857

16,695

2,355

1,287

1,285

528

87,364

FY 2021-22

8,758

28,044

3,148

1,241

1,837

899

43,927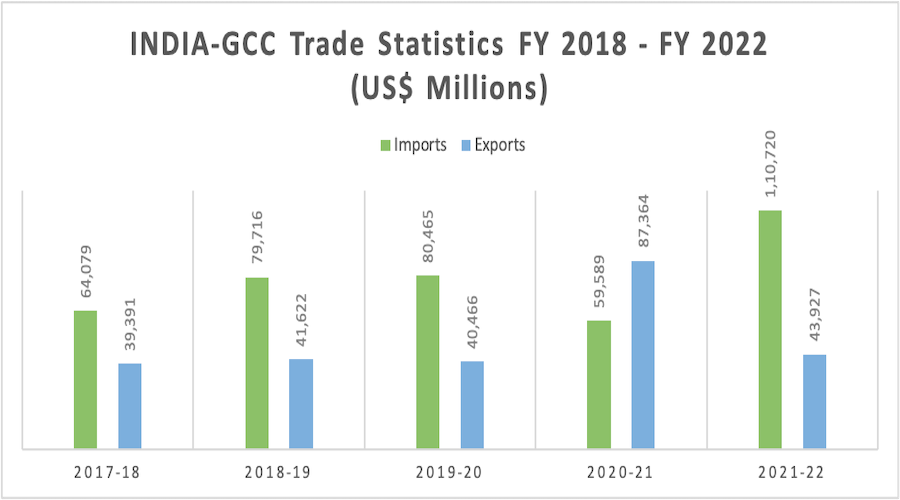 India FDI Inflows from GCC Countries (April 2020 – March 2022) (US$ Million)

Saudi Arabia

3,145.90

UAE

12,225.13

Oman

561.04

Kuwait

87.53

Qatar

488.01

Bahrain

181.66
Indian diaspora in GCC member countries
It must be noted that India was the largest recipient of remittances in the world in 2021, receiving around US$87 billion, approximately 50 percent of which came from the GCC region, according to a World Bank report. The GCC countries together host approximately 6.5 million Indians.
(This article was first published on August 29, 2022 and last updated on January 31, 2023.)